You've written an amazing post. Congratulations! It has every element of a successful affiliate campaign: proper tags, calls to action in the beginning, middle and end and compelling images. What next? You need to introduce your new baby to the world!  This affiliate marketing How To focuses on successful social media promotion of your affiliate post.
Always Disclose Affiliate Links On Social Media
Before we get into strategies and tactics, I would be remiss if I did not address the FTC's Disclosure rules. You must ALWAYS disclose when you are promoting affiliate links. I recommend using the hashtag #ad for its small character length. Disclosures need to be obvious, they can't be hidden in the middle of a 25 hashtag closing.
The FTC concluded that the hashtags #aff and #spon should not be used as most consumers are not aware of their meaning.
Please note, your disclosure hashtag should be used in conjunction with your post disclosure.
Facebook For Affiliate Marketing
Many influencers are focusing on Instagram but it is important to acknowledge the power Facebook continues to hold. According to Social Media Today, the average person spends 35 minutes per day on Facebook. Compare that time to 15 minutes per day on Instagram. Additionally, based on my personal experience of running multiple affiliate programs for more than 8 years, Facebook generates higher conversions for affiliate marketing campaigns. Below are some tips for promoting on Facebook
Have a Fan page. Yes, I know that Fan Pages are challenging when it comes to audience reach. However, it is only Fan Page offer the ability to boost a post. Your affiliate blog post should first be seen on your Fan Page.
Boost Your Post. To get more eyeballs to your post, a Facebook boost is required. The first type of boost I recommend is to your existing audience. These are the people who have already Liked your page. It is the most inexpensive and top converting boost. To get started, simply click on the Boost Post button. Once you click, select People Who Like Your Page, Your Total Budget and Duration. I recommend starting with a small budget and duration until you have confirmed your return on investment. If you received your Likes authentically and selected a product your audience responds to, your ROI will be great. If you do not have a solid ROI, test different titles and post copy.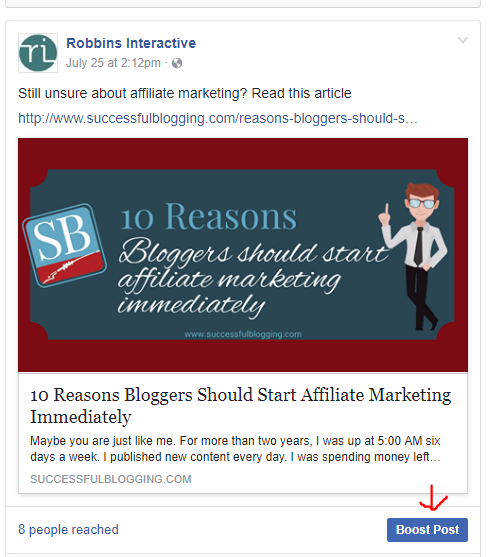 Once you have a solid method for reaching your existing followers, I recommend next selecting the People Who Like Your Page and Their Friends option. This will expand your reach but still keep your campaign manageable.
Once you've had success with your Friends of Friends campaign, you can start exploring with keywords and fans of similar Facebook pages. Facebook ad targeting can be its own blog post, so I will refer you to this video from Social Media Examiner.
Share On Your Personal Profile. Don't forget to use your Page's share function to share your Page post to your personal Profile. Facebook's algorithms do not affect personal Profiles. Personal profiles are a great way to reach out to friends and family who are interested in supporting your business.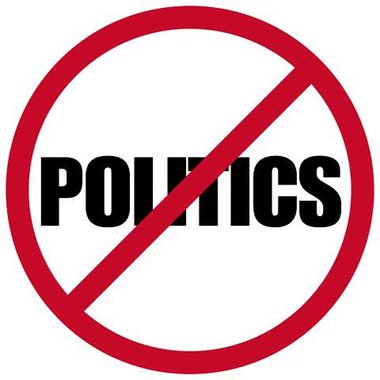 Since Facebook's algorithm shifted to encourage more advertisement, many influencers have started to use their Facebook Profile as a marketing tool. In fact, when I mention it on my Page, I refer to my personal Profile in quotes. I avoid controversial topics on my Profile knowing these types of posts may offend my audience, in my case affiliates. This is an individual decision based on how tightly aligned your blog is with your personal views.
YouTube For Affiliate Marketers
Oh YouTube, how I love thee. Videos are an amazing way to engage your followers on a personal and relatable level.  My top converting affiliates create both a traditional blog post as well as a video review. Here are just some of the reasons why.
According to 70 percent of marketers, video produces more conversions than any other type of content.
Social video generates 1200% more shares than text and images combined.
YouTube is the golden child for search engines therefore expanding your reach. Here are some great tips on how to optimize your video.
Within YouTube, you can include affiliate links directly in your Description box. Also, include a link to your blog post.
You can embed your YouTube video on your affiliate blog post for increased engagement and duration on your site.
Key things to remember about your YouTube video are:
Keep your video under 4 minutes if possible. If it can be shorter, even better.
Start off with high energy and your key selling points.
Tell your viewers to click on the affiliate links for more information and to purchase.
Similar to your blog post, have multiple calls to action throughout the post – beginning, middle and end.
Titles are your first impression. Your video title should be optimized with your keywords and be engaging. Examples of engaging titles: How To Get Rid of Age Spots Naturally, 5 Ways to Detoxify Your Skincare Routine, Top Performing Essential Oil Blends or Top Genetic Test for Biohacking. Another title idea is comparison titles where you review more than one brand/product.
Include your script in the Closed Caption for optimization purposes.
Instagram
Instagram may be last on my list but it is still a great tool for affiliate marketing. The challenge with Instagram is getting your followers to click on a link. Instagram has only one place for links, affiliate or otherwise: in the bio. Remember; it is perfectly okay to change your bio link regularly. Here are some Instagram tips for affiliates:
Use a URL shortening tool for your affiliate link such as tinyurl.com or PrettyLinks.com.
Use a personal and unique photo or image whenever possible.
Send followers to your blog versus using your affiliate link.
Use Instagram to drive traffic to your site and build your email list.
Do not buy followers. True engagement equals conversions. Don't be tempted by offers of cheap followers or false engagement through blogger "comment pod" groups. [see note]
Use relevant hashtags. For an affiliate program such as Healing Natural Oils, hashtags such as #EssentialOils or #GreenBeauty will bring you followers that convert. Be consistent with your hashtags.
Study fellow influencers in your niche and take notes.
[link to the post where you talked about private comment pods]
These are my top three social media channels for promotion. I recognize it leaves out other channels such as LinkedIn and SnapChat. I chose Facebook, YouTube and Instagram based on my experience with top converting affiliate campaigns. If you have worked with other channels or had different experiences, I would love to hear your feedback in the Comments section below.
http://www.socialmediatoday.com/marketing/how-much-time-do-people-spend-social-media-infographic