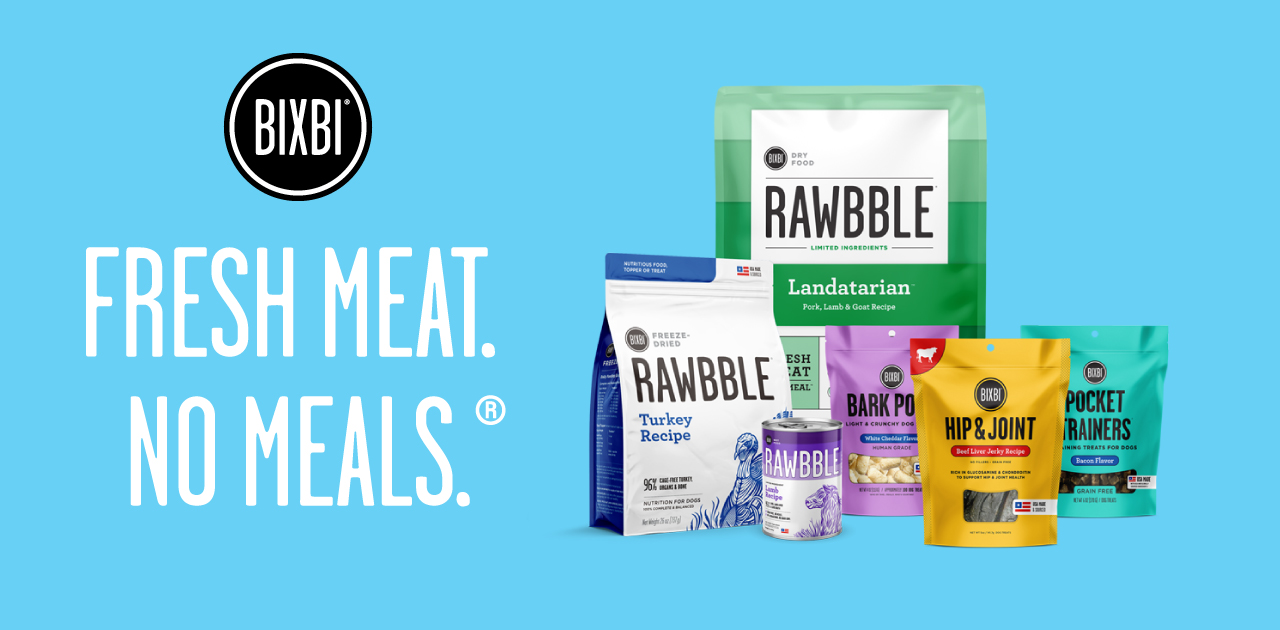 Robbins Interactive is proud to announce the affiliate program launch and partnership with Bixbi Pet. With a focus on clean ingredients and wellness, Bixbi Pet is a natural fit for Robbins Interactive's network of affiliates and influencers focused on health and wellness.
Bixbi makes dog food from 100% fresh USDA-grade meat and honest ingredients. With a mission for our fur babies to live long and active lives, Bixbi offers its products at a price that's lower than the rest of the clean dog food brands. No weird by-products, no over processed "meat meals."  Bixbi Pet offers grain-free dog food in dry, wet, and freeze dried formulas. Just healthy, delicious, digestible dog food at a reasonable price. Purchased through Bixbi's subscription offer, your healthy dog food will be delivered right to your door. No need to plan a trip to the local pet store, run out of dog food, OR pay for shipping.
Bixbi's Commitment To Quality Food
No meat meal EVER.

Meat Meal is a byproduct, commonly found in most dog food. It is made from taking slaughterhouse and fish processing factory remnants that are not edible for humans, and cooking them, processing them under high heat, and dehydrating them into a dry powdery substance that goes into kibble. This highly processed meat lacks digestibility and nutrients.

Made in the USA
Highly digestable ingredients. Bixbi foods are a great option for dogs with sensitive stomachs and/or allergies
High in protein. Low in carbs. With a focus on digestibility, Bixbi recognizes that dogs are carnivores and may not be able to digest grains well.
Convenience. Bixbi foods have a high shelf life without compromising quality.
Affordable. Bixbi wants to ensure all dogs have access to their amazing products. Bixbi products are affordable especially compared to other all-natural brands. Popular fresh meat dog foods can cost up to $54/week for the same level of quality!
Bixbi also offers treats and supplements that maintain their commitment to clean ingredients and developing formulas to keep your pup chasing that ball! Treats range from their popular meat jerky strips designed for common dog ailment such as achy joints to training treats to CBD oil.
The Bixbi Affiliate Program is available on the Shareasale network. Below are the benefits of joining the Bixbi Pet Affiliate Program.
Bixbi Pet Affiliate Program
20% commission on all referring orders
Average Order Value = $75
Conversion Rate Average Site Wide = 6%
30 Day cookie
Regular bonus programs
Affiliate resource center for assets, technical support, and tips
Dedicated and responsive affiliate manager
Parasite free program dedicated to content affiliates and influencers
Sign up today on Shareasale
I hope to see you soon up in the program soon!  I look forward to working with you!