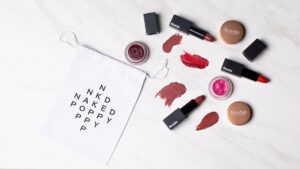 Robbins Interactive is proud to partner with NakedPoppy to manage their affiliate program.
NakedPoppy is your home for the safest, cleanest, and most luxuriously crafted makeup and skincare — curated for you. After taking your 3-minute beauty assessment, every product is rated just for you – and Perfect Picks are placed in your personalized boutique. This lets you shop for products that will look amazing without wasting time on the stuff that's not for you.
What Makes NakedPoppy Special
3-minute beauty assessment based on more than 30 attributes, including skin tone, undertone, age, eye color, allergies, beauty goals, and more.
Access to a unique and personalized boutique of perfectly matched makeup and skincare products based on your followers' needs.
All products are evaluated by our 4 pillars: clean, cruelty-free, ethically made, and better for the environment.
All ingredients are evaluated in-depth by chemists to ensure safety.
Hundreds of products from independent clean beauty brands as well as NakedPoppy's own award-winning, luxe clean products.
Growing female-led company featured in Shape, Allure, TODAY, Byrdie, mindbodygreen, The Cut, and more.
No risk shopping with free shipping and returns.
NakedPoppy Affiliate Program
10% Commission
Average order value = $60+
Regular bonuses
Library of converting creatives
Product feed available
No parasites
Detailed resource center providing everything you need for a successful campaign