When bringing on a client who is new to affiliate marketing, one of the first steps is to choose an affiliate network to partner with. An affiliate network provides the backend technology to support your affiliate management strategy. The network is responsible for tracking and payment for your affiliates as well as providing tools to build your commission strategy. In addition, the network hosts creatives such as banners and videos as well as providing educational tools to make affiliate marketing accessible. You and your affiliates interact with the network daily so the selection process should be taken seriously.
This article serves as a guideline of the five criteria I follow when choosing an affiliate network.
Go Where the Affiliates Are
This probably seems obvious but it must be said: select a network that already has your targeted affiliates signed up. Most influencers belong to multiple networks. However, they usually have a favorite. If you have a 'dream' affiliate in mind, reach out and ask which are their favorite networks.
Most merchants lean towards a one, or at the most two, network strategy. So, how do you find out where your affiliates are? A great place to start is by looking at your competition. Which influencers are representing their products? A word of caution when looking towards your competitors. Since your program may have different strategies for different types of affiliates, you want to ask the network which affiliates perform best in the network and why. If the network's Best Affiliate Award regularly goes to a toolbar affiliate and toolbar affiliates are not part of your strategy, the network is not the right fit for you.
Lastly, don't simply look for the number of affiliates in the network but find out the quality of those affiliates. What are the network's vetting processes for affiliate applications? How is fraud handled? Is there an affiliate feedback system in place?
Ease of Use
My agency, Robbins Interactive, focuses on influencers and other content affiliates. Many affiliates I work with are new to affiliate marketing. As such, a user-friendly affiliate interface is a top priority. I especially look for networks that invest in tools and education that appeal to content affiliates. Below are some of my favorites.
Shareasale's Gift Guide blog posts that appear before the holidays make creating a profitable holiday gift guide a breeze. In addition, their Gift Cards Database makes last-minute holiday posts easy to create.

Avantlink's SnapVisi was designed with fashion influencers in mind. This fashion blogger tool is invaluable as it allows you to tag multiple items in a single image with affiliate links.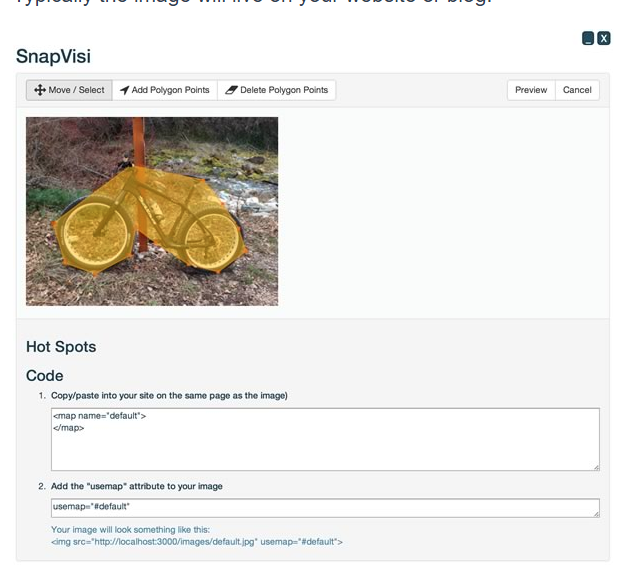 Attribution
First, let me define what attribution is. Attribution allows you to see data throughout the click path of your consumer buying cycle to understand multiple touchpoints that took place to complete the sale. For the sake of simplicity, I am referring to attribution without the affiliate channel and network.
If your program contains content, coupon, and loyalty affiliates; a network with attribution abilities is a necessity. With attribution, you can ensure your content affiliates don't get overridden by a last-minute coupon affiliate. Ideally, both affiliates would be compensated based on the efforts and contribution each affiliate brought to a sale.
In the early days of affiliate marketing, attribution in affiliate networks was based on last click only. Meaning, whichever affiliate fired the last pixel based on the final click of a sale received the commission. Impact Radius, Shareasale and Avantlink introduced fractional attribution into their networks based on position and time decay. At this time, only Shareasale and Avantlink offer merchants advanced attribution that involves commission delegation or splitting.
As an example, if you're working with an influencer who generated persuasive content for your product, this affiliate should be compensated at a higher level than a coupon affiliate who only optimized a page for trademark + coupon.
Without putting proper attribution rules in place, you risk losing a valuable introducer. As merchants demand that affiliate programs integrate influencer marketing into their strategies, the traditional last click model is no longer sustainable. Influencers simply will not want to be in programs without advanced attributions that protect their revenue stream.
Customer Service
Quality customer service is crucial when working with a network because the atmosphere in affiliate marketing can get rather intense, especially around the issues of fraud and during the holiday season. If you suspect fraud or have a technical issue on Black Friday, you need to feel confident you have a network partner, not just a technology partner. Of course, during the sales process of selecting a network, customer service can be hard to determine. Typically, your salesperson will not be your point of contact, so you may not get a clear picture of what the service will actually be like. I suggest getting at least three recommendations before selecting a network partner. Ask what customer service response timelines are as well as how effective those responses are. Be sure to get recommendations from similar size companies as yours. For instance, Target.com gets a different level of customer service compared to Healing Natural Oils/Amoils.com. Additionally, make sure the recommendation is coming from a merchant with your same service agreement. If the merchant providing the recommendation has full-service management as part of its contract, the service is likely different than what you might experience with a self-service contract.
Get Personal Referrals
Most agencies and affiliate managers have one or two go-to networks. I highly recommend you ask other current managers for their preferences and reasoning behind their choices before you start your selection process. The affiliate industry remains a small and friendly environment so don't hesitate to reach out.
Who are my favorite networks? You might have been able to guess my two favorite networks, but here is your first personal referral. The two networks that hold my undying loyalty are Shareasale and Avantlink. Quite simply, they exceeded my expectations on each of the four criteria listed above. I represent smaller merchants but receive amazing service and attention from both networks. They also have a dedicated team for affiliate vetting and commitment to new technologies. These networks represent Affiliate 3.0 on every level. Lastly, these two networks maintain a level of professional ethics and innovation that continue to inspire me.
But, don't just take my word for it. Below are the top, non-private labeled networks most commonly used for affiliate management, listed in alphabetical order. Keep in mind; my opinion is based on CPA (cost per acquisition) affiliate marketing.
CJ (formally Commission Junction)
I would love to hear from you: what are your favorite affiliate networks and why?