For all Robbins Interactive affiliate programs, email marketing reigns as the top converting/earning affiliate marketing tactic. But how do you build a list to take advantage of this marketing tool?
Why is email marketing so effective for affiliate marketers? According to marketing platform site Emma, email marketing is 40% more effective than marketing via social media platforms. And since you need  an email address to sign up to just about anything these days, it's unlikely to not have one.
In addition, email marketing helps to build credibility and the relationship. It is also a more direct form of communication lending itself to consumers asking questions and engaging further. So despite what you may have heard…email is not dead. In fact, 91% of consumers check their email twice a day. 
If that doesn't convince you, remember that you will always own your email list. Your social media channel cannot say the same. This is not saying social media shouldn't be a part of your affiliate marketing campaign. We are simply stating it shouldn't be your only means of communication with your followers. 
How do I build my email list?
Now that we have you ready to send out your next email blast, let's talk about how to build your email list. 
Have you ever landed on an influencer's blog and immediately got a popup prompting you to enter in your email to receive their latest newsletter? That's a perfect example of how some bloggers build their email list. 
. Here's five ways that will help you grow your email list:
Offer an exchange
Offer something useful to your audience. Yes, if you're a blogger you probably have an archive of free articles that your current audience has access to. It's a good idea to offer something exclusive that not everyone has access to. I recommend incorporating a popup box into your blog to make the exchange happen. You can offer a free PDF. This is where you get to use your creativity. What are you an expert in? Perhaps you're an expert at using Instagram and gaining new followers. 
Compile that knowledge on a nice looking PDF and help others grow their IG followers. Just make sure you aren't straying too far from your niche. If you are a fitness influencer, create a PDF with your quick at home workouts. If you are a green living influencer, consider creating a PDF that highlights your favorite clean swaps or alternative medicine options. If your niche is sustainability, you can provide a list of sustainable fashion brands or the  best places in your area to thrift! You get to be creative here 🎨
Feeling stuck on your PDF creation? Many of Robbins Interactive affiliate programs have an existing PDF for you to use. Just ask your affiliate marketing. 
Create newsletters
Speaking of newsletters, they're one of the simplest ways to collect emails. They're also a great way for your followers to stay up-to-date on your latest blog posts. They're also good indicators on who is interested in your content and who your audience is. Here's a resource on how to make your own newsletter using Adobe Spark. 
You want to make sure you're including both informative and promotional components in the newsletter. For example, If you're hosting an upcoming Q&A on Instagram live showcasing and answering questions about a brand's products, you want the newsletter to include the dates and times you will be hosting. If there's a special deal going on, the newsletter is a perfect place to let your readers know. You can also feature your newest articles on your newsletter. Here's a great example of a newsletter that the New York Times sent out their subscribers in 2017: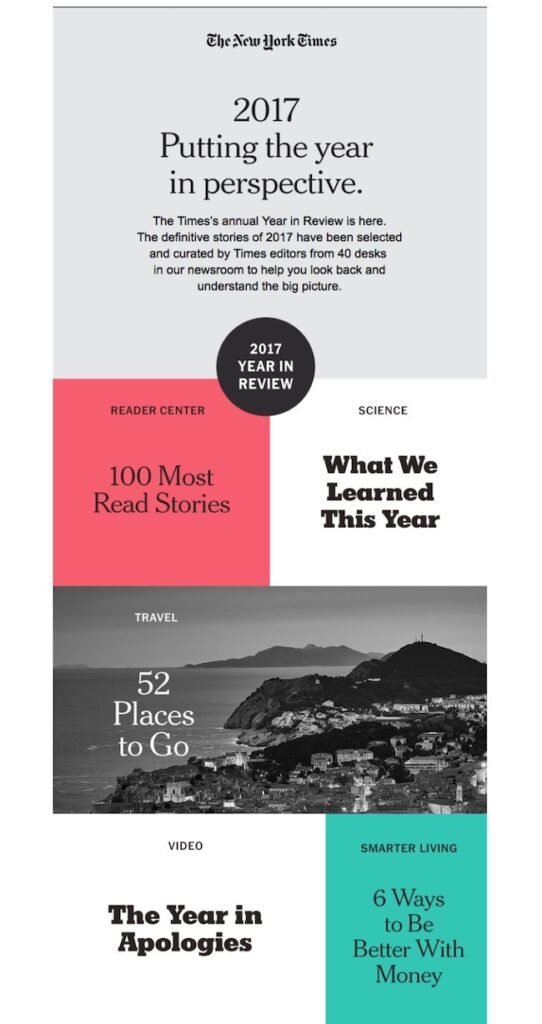 Utilize your social media platforms
If you don't already have a Facebook page for your business, you can easily create one by following a few simple steps. This is a great tool to use because your audience has the option to sign up with their email.

Above is an example using the Robbins Interactive Facebook business page. The blue sign up button. Once set up, this button allows visitors to subscribe to your campaigns and makes them a contact. Here's how to set up the button. It's unlikely that people will automatically navigate towards that button, however, the next tip can possibly help your button get more clicks!
Host contests via social media
Prizes are an incentive! Host a giveaway contest and watch your engagement grow. It's safe to say that everyone loves when things are free. Use this to your advantage by putting together a goodie bag of your favorite products (for example) and selecting an eligible winner. Here's an example of some requirements/rules to enter: 
Must be signed up to your Facebook business page (BINGO! See tip above)

Must be following your Instagram account

Must be subscribed to your newsletter
You can also make it so that the winner will be announced via your newsletter so they'd have to sign up to subscribe 😊
Use Twitter Quick Promote 
In simpler terms, these are tweets that are promoted. According to Vertical Response, these tweets are able to capture the emails of accounts. 
In 2013, Twitter released the Lead Generation Card, which helps brands drive leads. According to Twitter, "When someone expands your Tweet, they see a description of the offer and a call to action. Their name, @username, and email address are already pre-filled within the Card. The user simply clicks a button to send this information directly (and securely) to you." Here's a screenshot of an example pulled from Twitter's blog: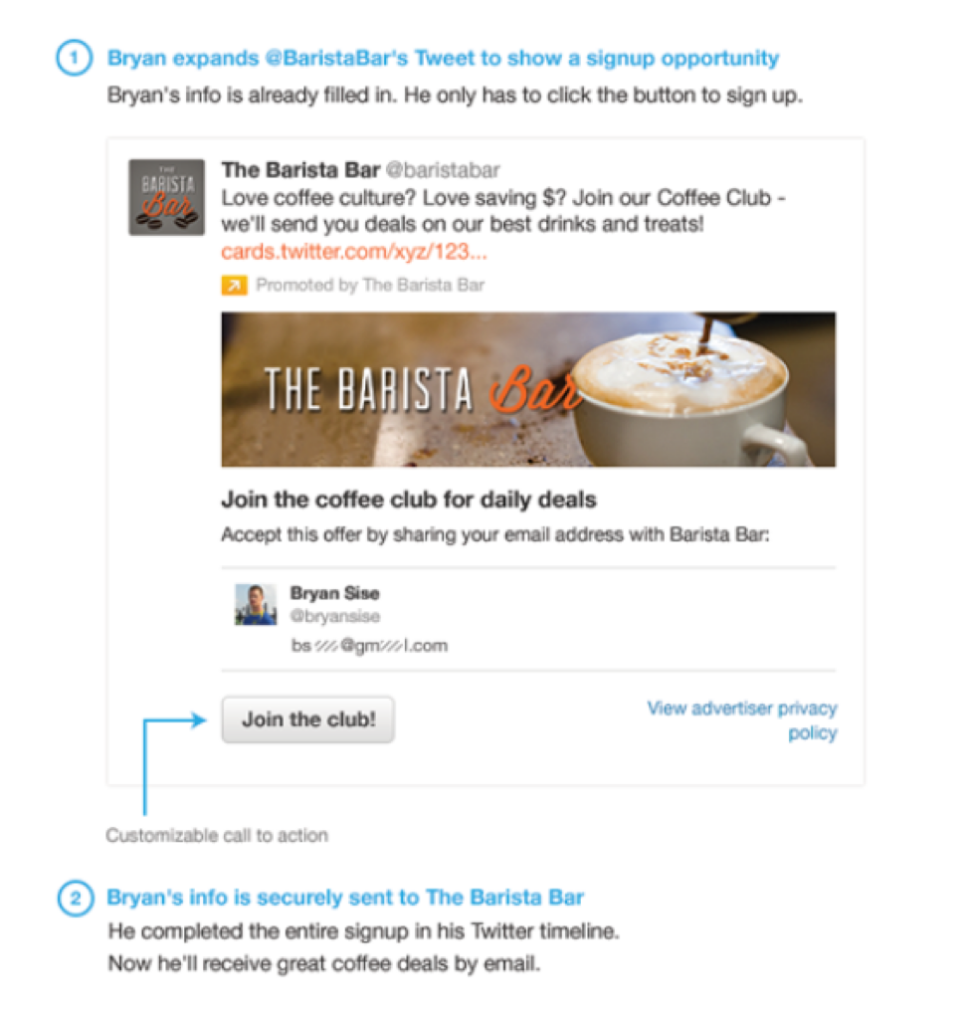 Remember that building a quality email list that fits your niche won't happen overnight. It takes time, but that shouldn't stop you from starting now and working with what you have! Practice and further research these tips to expand your email list for the future. 📨