Whether it is due to changing priorities due to Covid, a deep dive into minimalism, or just a natural shift in your life, intentional giving is a trend that we will all be seeing more of this holiday season and beyond. True confession, I am pretty excited about this trend! 
What Is Intentional Gifting?
There are a few definitions out there. One definition is simply being thoughtful with your gifts. However, the 'newer' version of intentional gifting means gifts that the recipient will not only love but also needs. The concept is to reduce the amount of consumption to avoid clutter, minimize distractions, and help protect our planet. These gifts align with the recipients' and givers' values.
I recently moved to intentional gifting for my clients. Instead of sending another basket of sweets, I now donate to a non-profit that aligns with their values or to gift from a local small business that aligns with both of our values. 
Are you excited to share intentional gifting with your followers? See below for topic and product ideas. Not all of these brands are managed by Robbins Interactive. However, I did confirm, they all have affiliate programs.
Intentional Gift For Affiliates
You may be reading this thinking "this is lovely but why are you talking about this on an affiliate marketing blog?" I am glad you asked. As the self-proclaimed "hippie affiliate manager,' I manage affiliate programs that are perfect for your Intentional Gifting Guide. Below you will find topic/list ideas as well as relevant programs to monetize your post. I will indicate the Robbins Interactive programs with a *.

Intentional Gift Guide For The Workout Enthusiast
Do your followers have someone on their holiday list that loves to work out? Enjoy the outdoors? Competes in athletic competitions? If I am following you personally, then the answer is a strong yes. There is a good chance I am following you if you are showing me how to get my sweat on 🙂 Here are some gift ideas for your list. Not all of them have affiliate programs and are denoted accordingly.
* Dropps Active Wash – So maybe laundry detergent isn't the sexiest gift. However, when it is designed to maintain workout apparel AND remove "perma-stink" as well as protect the planet, it gets a little sexier. Dropps' Active Wash paired with a workout outfit is a great gift. As a Dropps content affiliate, you earn 20% on single orders and 35% on subscription orders. You can sign up through our affiliate partner, Impact.
*Joy Organics CBD – If you aren't getting sore, you probably aren't working hard enough. Joy Organics provides immediate relief to general muscle soreness with their CBD Sports Cream or USDA Certified Organic Salves. Throw in the CBD Bath Bombs to soak in CBD and Epsom salt goodness! The Joy Organics Affiliate Program offers 35% commission to its content affiliates through Shareasale. Mention this post and I will also throw in a bonus for you!
Meal Delivery Services – Part of working out is a desire to be healthy. Due to a busy schedule, sometimes meal prep can take a backseat. Sending a healthy meal plan for a week or more gives your workout buddy a great and healthy break. My favorites are Fresh and Lean and Trifecta Nutrition. 
National Park Pass – While this gift does not have an affiliate program, it is always a great gift for the outdoor enthusiast or family on your list. You can send your followers here. To monetize this idea, add an outdoor essential such as a Nalgene or hiking socks from REI.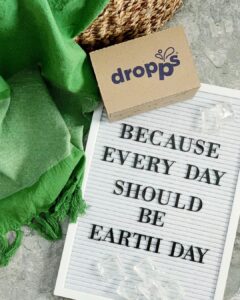 Intentional Gift Guide For Eco-Warrior
*Dropps – Dropps' laundry and dish pods are just the beginning of their incredible line of green products that are both effective AND affordable. Delivered straight to your recipient's home via carbon-neutral shipping, Dropps products are sent in compostable packaging, minus wasteful plastic jugs. Not so sure about giving detergent? Check out these adorable Swedish Dish Towels and Limited Edition Zero Waste Daniel Tote. 
*Repurpose – Even our eco-warriors can get overwhelmed with holiday party dishes. Gift your hosts this plant-based, compostable disposable products by Repurpose  to have a guilt-free and dishwashing-free evening. Repurpose's affiliate program will be live on Shareasale soon. Email me at srobbins@robbinsinteractive.com for details and early sign-up.
Hi-Bar – Let your warrior ditch the plastic shampoo and conditioner bottles without sacrificing her beautiful locks. Hi-Bar offers an amazing selection of effective shampoo and conditioner bars. Trust me, I have tried quite a few and these are the only ones that make my hair feel and look amazing. While Hi-Bar doesn't have an affiliate program, The Kind Humans shop does and carries a great line of their products! They are also available on Amazon.

Intentional Gift Guide For The Homebody
*Dropps – Make cleaning the dishes after a home-cooked meal even better with Dropps' low waste dish detergent pods along with these adorable Swedish Dish Towels!
*Muslin Comfort – Dress your bed with the oversized 365 Muslin Comforter for the ultimate in snuggle comfort minus the hot and sweaty feeling. This affiliate program is on Shareasale and offers a 10% commission on this high-order value brand. 
Pact  – Make staying at home as comfy as possible and good for the planet with Pact's super-soft loungewear. 
Breakfast Tray – Your recipient may never want to leave the bed with super comfy loungewear, the perfect comforter by Muslin Comfort, AND a breakfast tray. Feeling super generous, include a coupon for breakfast in bed. I love this bamboo tray from Earth Hero.
*Repurpose – Skip the dishes while still being kind to the Earth with Repurpose's plant-based compostable plates, bowls, and cups. 

Intentional Gift Guide For New Parents
*Dropps – There is one thing new parents can count on and that is there A LOT more laundry in their future! Set up the new parent in your life with Baby & Sensitive Skin laundry pods so they have one less thing for their tired minds to think about. 
*Muslin Comfort – Babies can feel like mini ovens next to you whether you are co-sleeping, snuggling, or feeding. The 365 Muslin Comforter was designed by a mom for this very reason. This oversized comforter magically keeps your temperature just right. They also have crib blankets as well which are perfect for swaddling.
*NakedPoppy – It can be tough for a new mom to carve out some time for self-care. Set mom up with a little luxury every day by gifting the NakedPoppy Cleaning Ritual Set. 
*Joy Organics – The new mom in your life will feel incredibly pampered with the clean beauty products AND The Mommy bundle. This bundle features the ultimate in relaxing products including CBD Bath Bombs with calming lavender, CBD gummies, and CBD cream to help with those aching muscles.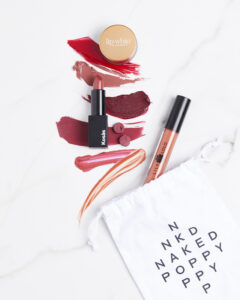 Intentional Gift Guide For Beauty Lovers
*NakedPoppy – Give the gift of a personalized clean beauty makeup and skincare store with a NakedPoppy Gift Card. You can choose from a beautiful custom note delivered on high-quality paper and a bright red envelope or if it is the last second grab the eGift card. All NakedPoppy products are carefully vetted to ensure they are toxin-free, cruelty-free, and ethically sourced. 
*Healing Natural Oils – Healing Natural Oils' Simply line offers all-natural oils specially formulated for specific needs such as eye serum, facial, body, age spots, and more. 
A Silk Pillow Case Cover – No sense in all the amazing skin and hair care if you are going to damage both with a rough pillowcase. Instead, spoil your special someone with this luxurious silk pillowcase by Blissy made from 100% mulberry silk. 
*Muslin Comfort Robe – When you are treating yourself to a facial mask, you want to have your robe feel just as luxurious. The Muslin Comfort 365 Robe keeps you comfy and cozy but NOT hot and sweaty. 
Hi-Bar – Give the gift of beautiful and healthy hair without harming the planet. Talk about a win-win.  Hi-Bar offers an amazing selection of effective shampoo and conditioner bars. While Hi-Bar doesn't have an affiliate program, The Kind Humans shop does and carries a great line of their products! They are also available on Amazon.
Are you going to focus on Intentional Giving with your followers and on your own shopping list this year? Are any brands/products high on your list? Please share in the comments below.